Looking for a machine shop that can take on your Vespel projects? 
Vespel is commonly used in space and aerospace components, automotive manufacturing, energy production, and semiconductor processing. While machining Vespel is not necessarily difficult, it's important to work with a shop that specializes in plastic machining services.
What Is Vespel?
Lightweight, strong, and able to withstand extreme conditions, DuPont™ Vespel® is quickly rising in the ranks as a go-to material for high-performance plastic parts. The material's high strength-to-weight ratio makes it a great choice for parts traditionally manufactured from ceramics, metal, and various polymers. 
Vespel characteristics
Characteristics of Vespel include:

Strong yet lightweight

Low creep and low out-gassing

Performs well in cryogenic to extreme heat conditions

High dimensional stability

Easy to machine (with proper tooling and equipment)

Compatible with tight tolerances

Low thermal expansion
Common Vespel applications
Vespel creates strong, long-lasting parts for demanding applications, including:
Bearings

Bushings

Centrifugal pump wear components

Chemical, hydrocarbon, and water service pumps

Insulators

Seals

Test sockets

Thrust washers

Tube clamps

Wafer guards and guides

Wear pads, rings, and strips
Challenges of Vespel Machining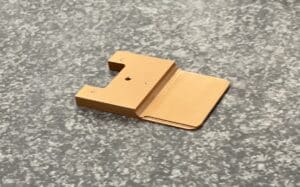 Vespel is expensive, so when you need Vespel machining, it's important to partner with a shop with the appropriate tooling, equipment, and training to ensure part quality and consistency. 
Some precision machine shops opt out of plastic machining altogether because they don't want to invest in the associated tooling or develop the necessary in-house expertise. Machining plastics can also be messy, requiring extensive cleanup to prevent the plastic from seeping into the machines and absorbing coolant. Understandably, not all shops are up for these challenges. 
Additionally, be on the lookout for shops that offer plastic machining services but haven't invested in the proper equipment and tooling to achieve consistent and high-quality results. 
Choose Ricaurte Precision for Vespel Machining
At Ricaurte Precision, if our customers need a capability, we always do our best to provide it. In the past few years, we've seen an uptick in Vespel orders in our shop because customers recognize that we are well-equipped to provide superior Vespel machining services.
Our 5-axis machines are ideally suited for working with Vespel and other plastics. In fact, we recently acquired a Matsuura MX-330 PC10 5-axis vertical machining center with a 10-pallet changer and 90 tool stations, as well as automated features that enable us to boost our efficiency via lights-out machining. We're thrilled that this new machine is expanding our plastic machining capacity. 
We welcome RFQs for Vespel machining and have rigorous quality control measures in place to ensure consistently excellent results, such as cleaning our machines fully after machining plastic to maintain peak condition. 
If you're ready to work with a precision machine shop that excels at Vespel machining, request a quote today!